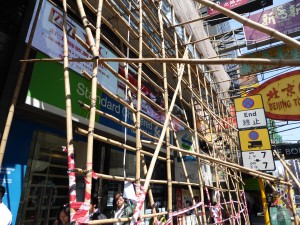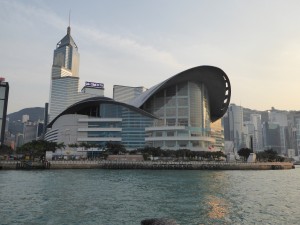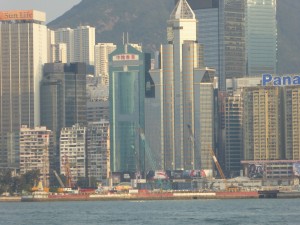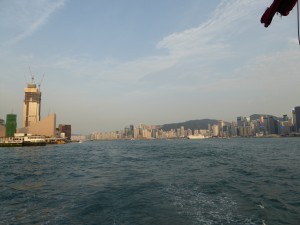 Hong Kong                                         Easter Sunday, March 27, 2016
Greetings from Hong Kong! We are sad to spend Easter Sunday away from family and friends, but we hope you are all enjoying a lovely day.
We arrived in Hong Kong yesterday, and this is some city! It consists of many islands, although only a few are inhabited, and part of mainland China. About 7 million people live in Hong Kong, and 95% are Chinese. However, this is the business and finance hub of Asia, and lots of visitors from around the world come to the city for varying durations. Hong Kong has a large commercial port, and export/import business is big here.
Hong Kong has a lot of history, and it was only in 1898 when it began its modern story. After the Opium Wars (Britain forced China to open up trade, travel, etc.), Britain obtained the right to lease Hong Kong for 99 years. At the time, the area was almost entirely undeveloped and many criticized the chap who signed the deal, thinking it was a bad bargain. But the city grew and prospered, thanks in part to the deep and wide Victoria Harbour between the mainland (Kowloon) and Hong Kong Island. Today it is a clean, modern, sophisticated city.
Control of Hong Kong reverted to the Chinese in 1997, but it is a Special Administrative Region of China, with its own currency and its own rules (at least thus far). And it is a bastion of capitalism like you've never seen – luxury merchandise is for sale big-time – think of every fine store on 5th Avenue, Rodeo Drive, Bond Street, or the Short Hills Mall, and that is part of the Golden Mile in Hong Kong.
And wealth is on display in Hong Kong – there are stores selling Baby Dior, Baby Cavalli, Baby Armoni, etc. – and children (and adults) wearing the latest and greatest of every brand (some genuine, some counterfeit).
Add to this luxury plenty of open air markets, markets with stalls, night markets, jade markets, gold markets, and lots of markets for counterfeit luxury items, and that is also part of Hong Kong.
Toss in some beautiful British buildings, pretty parks, eateries of all types, and that is also part of Hong Kong.
Hong Kong has been described as a vertical city – everything is densely packed and built up high – commercial buildings, residential buildings, cemeteries. About 20% of the residents own cars, and the population travels largely by bike, metro/subway or walking.
During our visit here we heard a lot about lucky numbers, fortune tellers, legends of benevolent dragons that protect the Chinese, and feng shui (the consultation of the elements to bring people into harmony with nature).  Because construction is going on all over Hong Kong (producing some high rise buildings that are beyond description), feng shui masters are kept very busy.
We heard one story about the construction of a large new skyscraper for a large Chinese bank. The building was designed with many angles and decorative diagonal beams that appear to slash its exterior. The feng shui master retained by that bank advised that the sharpness would inflict damage on a nearby competitive bank. The competitive bank retained its own feng shui master, who advised it to plant willow trees around its exterior, which would make it hard for the sharp edges of the new bank to inflict harm.
Hong Kong permits 3 types of gambling: racing (there is a beautiful old racetrack in town), lottery and football (soccer). Macau is about 90 minutes by fast ferry, and gambling there is thriving.
During our visit we enjoyed the skyline (Joe will post pix of this), a nice cruise around the harbor at sunset, a trip to Victoria Peak where you can look down on everything, Repulse Bay, trekking around town and through parks, and walking past the largest mosque in Hong Kong this morning as many ladies in Muslim traditional wear came out of the subway and entered their part of the mosque for prayer.
Joe and I send our best wishes to all for a blessed Easter.
Mary Anne