On April 28, 1789 Fletcher Christian led a mutiny against Captain William Bligh on the Royal Naval vessel, HMS Bounty. After the mutineers seized the ship they put Bligh and 18 loyalists on the ship's launch and sent him on his way. Most of the mutineers went to Tahiti, the rest went to Pitcairn, led by Acting Lieutenant Fletcher Christianson. While the men who stayed in Tahiti were eventually captured by the Royal Navy, the men who went to Pitcairn were never found by their pursuers. Fletcher and his men eventually settled down with Polynesian wives and their descendants live on Pitcairn to this day.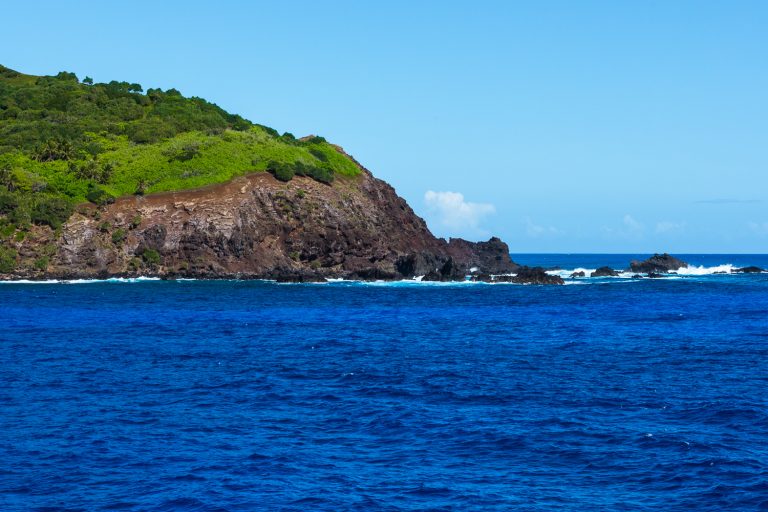 That's where we have been visiting today. More precisely some of the native people came to visit us on the ship because it was too dangerous for us to board tenders to go ashore.
Pitcairn is a beautiful island, but its population is, to put it mildly, very small. In fact, the total population of the island is about 55. Of the 55, about 10 are visitors. The island is part of the British Commonwealth. Britain has declared a 200-mile economic zone around it, and has placed the area under protection from environmental degradation. They are looking for people to emigrate to their island. If you emigrate to the island you get a plot of land, but building, or getting a house built, is your responsibility. The electricity stays on until 10:00 PM unless someone is watching a late movie on Netflix, in which case the power stays on till around 10:30.
We decided to sail on and not emigrate anyway. Anyway, here are a few shots of natives of Pitcairn making their way back to the island after visiting the ship.
JFB