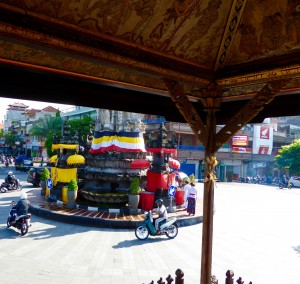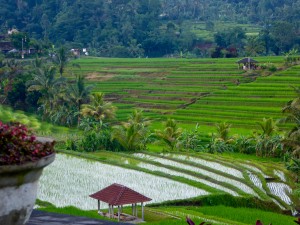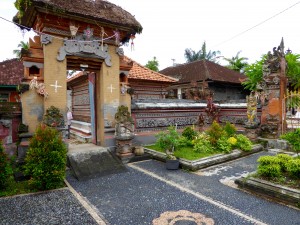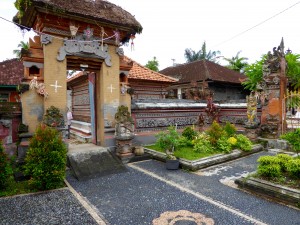 Bali, Indonesia (4,000+ miles from Sydney)
Tuesday March 1, 2016 5 p.m. local time
We sailed into Bali (Benoa Port) on Sunday and came through every known type of vessel in the busy port, from party boats to parasailing motor boats to cruise ships – a glorious sight. We docked and could here drums, bells, chimes and chanting from our room. When we stepped out on the veranda we saw singers and dancers performing for the passengers on the ship.
Legend has it that back in the days when Bali was joined to java by a land bridge, a Javanese priest had to exile his dissolute son. The priest took his son to Bali and left him there while the priest returned to Java. The priest then drew his finger in the sand, creating a channel that filled with water and left Bali as an island. This is the kind of history that seems to accompany everything here in the island – a mystical explanation for it all.
Bali is one of Indonesia's smallest islands and the Balinese work hard to preserve their culture and art. Two large volcanoes (1 erupted in the 1960s) tower over forests filled with monkeys, duck farms, rice paddy terraces and villages. Beautiful beaches (some with white sand, some with black) ring the island and bring in many tourists. Tourism is now Bali's largest source of revenue, moreso than farming.
The villages are often comprised of family compounds, in which several generations live together (rooms are added as sons marry and bring wives to the compound). We visited one compound (pictures) – each has its own temple for ancestor worship, areas for rituals, a common kitchen and separate rooms for sleeping. Behind the kitchen area many families raise animals. Ancient buildings and beautiful gardens line the roads in the villages.
Life in Bali revolves around worship of gods and ancestors, rituals, and seeking harmony and balance between spiritual life and material needs. Hinduism is the basis for religion of most Balinese, but concepts from other religions are mixed in, so you hear Balinese speak of karma, nirvana, animism, reincarnation, mysticism, etc.
There are shrines and temples EVERYWHERE – sidewalks, houses, intersections, walls, and anyplace else where a little worship can be practiced. Families make daily offerings of flowers at their home shrines, and daily offerings are made at other shrines and temples. In one very busy intersection by the Court of Justice, we saw 2 young women bring an early morning offering to one of the gods represented at the shrine in the center of the intersection (picture). As a result of these daily offerings, the sale of flowers is brisk.
Bali has a rich history related to arts – wood carving, stone work, IKAT weaving and batik cloth, poetry, music, dance, shadow puppets, and other local arts are visible everywhere, and are seen in many of the tourism offerings.
During the past 2 days we travelled to the ancient court of justice (where the big cases were resolved in olden days), visited some beautiful rice terraces; observed countless motorbikes with none of the US-type safety activity; learned about the water cooperatives formed by the rice farmers and their arduous planting, weeding and harvesting activity; heard about mythical dragons, lions, monkeys, deer and other animals; and learned a lot about the Hindu religion as it is practiced on Bali. We visited Bali's largest temple and climbed a lot of steps to view the areas where the Balinese honor the gods.
We have seen several ceremonial processions – two in which entire villages dress in white and car pool to a major temple to seek blessings which they bring back to the local temples, accompanied by costumed performers and musicians; and one which was a cremation ceremony. Cremation is compulsory in Bali, and it's a big event; for families who cannot spend much on a cremation ceremony, there are mass cremations in which the cost is shared. If you are really lucky and someone wealthy is being cremated, your family might be able to participate and pay nothing.
Bali has a history of commercial trading, given its location, exports and imports. The trading continues today, beginning with the taxi fare, continuing to the many shopkeepers who entice you to buy as you walk on any street, and extending through the world of personal services (one of our friends on board reported that she received a 60-minute massage yesterday at a clean and proper establishment for a total of US$6).
Bali struggles to determine how tourism can be promoted without harming the culture, the environment or the way of life. As the Hindu philosophy goes, it's all about harmony and balance.
Hope that you are all well.                                                   Best,
MA
PS – we will post pictures as soon as we are able to get internet bandwidth, which is a challenge!