Alaska                                                             May 1, 2016
We have spent this past week visiting several places in Alaska and enjoying the beautiful scenery and the nice local folks. This is a giant state, and our visit only covered a bit of the Aleutian Islands and some of the towns/cities in the southeast part of the state. Alaska's big business is fishing, but tourism is high on the list, followed by government.
One of the speakers on this ship gave a presentation on Alaska's vital importance in terms of global relations, given its proximity to Russia and the West Coast of the continental USA. Since we had tried to visit Petroplavask, Russia before we got to Alaska, and learned that this is the hub for Russia's buildup of marine power, the role of Alaska may be something to keep an eye on.
We learned how life in Alaska is so different from what we expect in other parts of the USA – the terrain is rugged, the areas we visited are rainy (part of a rain forest, actually), and there are relatively few roads; a lot of the travel and transport is done by water (seaplanes, ships, etc.) and air (one out of six residents in Alaska has a pilot's license). Transport of goods is often scheduled during the cold months, so that the frozen rivers can carry heavy loads with relative ease. The communities we visited are relatively small (Dutch Harbor has about 4300 residents, while Anchorage – a large town – has about 300,000), but there is a great sense of community here and people love being outdoors even if the weather is tough.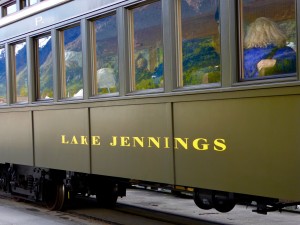 During the May-September period, tourists pour into Alaska for all sorts of recreation – fishing, hiking, biking, camping, etc. Despite the large number of tourists, it seems that it doesn't get crowded because there's so much land, so many bodies of water, etc. A very large part of Alaskan property is protected from development in various ways, including federally owned property and national parks (both land and water/glacier).
We learned a bit about the history of Alaska; its native people (who have a status similar to Native Americans in the lower 48 states, but who don't live on reservations); how Russian traditions live on even though the US bought Alaska from Russia in 1867; the 1897 Klondike gold rush; and Alaska's role in World War II (Fort Abercrobmie Park in Kodiak had bunkers, cannon and other military installations to defend the US).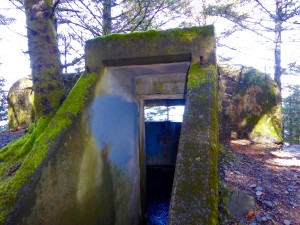 The gold rush stories are fascinating – people from all walks of life and professions headed north when word hit Seattle that gold had been discovered. Entrepreneurs located harbors and built town centers with access to the main roads up to the Klondike. One of these towns, built on a deep harbor (Skagway) is still a thriving area, despite the fact that its road to the Klondike was horrible (a picture of the start of the trail is attached). Another town, built on a shallow harbor but having a better trail road to Klondike (Dyea) is now just a ghost town.
People who wanted to mine gold needed to make a commitment that they'd bring enough with them to survive one year – this meant about 600 lbs of flour, hundreds of pounds of cured meat such as bacon, mining tools, tools to build houses, etc. The National Parks Service information says that the miners needed to lug 1 ton of goods from their starting point in Alaska (which they would reach after travelling from San Francisco or Seattle, for example), up the narrow, steep trail into the Yukon, and then cross the Yukon River before reaching the gold fields. And, if a miner wanted to use a horse, mule, dogsled, etc. he'd need provisions for that animal, and might schedule travel during the winter in the case of dogsleds (which are easier to move over ice and snow than over mud and dirt). Skagway grew into a large town as the miners came, with all the vices that are present with desperate, hungry, lonely men; we heard many stories about the con men and others who took advantage of the situation, and how local heroes rid the town of its bad actors.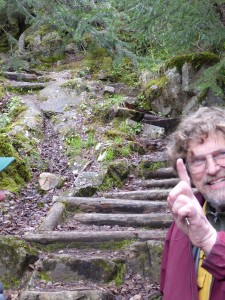 We also spent several days checking out glaciers (frozen packs of ice that can be miles long and wide, and come in all types, depending on the land masses near them). Joe has some great pictures of this, as well as the various parks where we hiked on beautifully maintained trails and enjoyed the scenery, whether we had rain or sun. On Glacier Bay, we saw 2 tidewater glaciers, rare because glaciers don't often reach the sea; tidewater glaciers are found only in Scandanavia, Chile and Alaska. Hubbard Glacier, which we visited on a nice sunny day, is 75 miles long, 300 feet high on its face, and covers 1350 square miles in area.
National Park Service rangers boarded the boat for a day and gave us a nice education about the forests, glaciers, tides (high and low tides in this area vary about 25 feet most days) and wildlife. We had the chance to use all this knowledge in the past week, and we saw some whales, harbor seals, sea lions, eagles and even bear (from a nice distance).
And last but not least, we learned how vital the dogs and dogsleds have been to life in Alaska over the years. It's not just the Iditarod 1150 mile race (which, by the way, women seem to win a lot), but it's also the story of Balto. In 1925 a diphtheria epidemic threated Nome, Alaska. Medicine was sent from Seattle to Anchorage, and then had to get north to Nome. Sled dogs were harnassed to make that trip of 674 miles and they completed the trek in an epic 127 hours. Balto, who was 6 years old at the time, led the team during its final leg of the trip, withstanding weather of -23F degrees and near whiteout conditions.
So Alaska is everything we hoped it would be, and more. Just beautiful, with room for many more visits, I hope!
Hope you are all well, and looking forward to seeing you soon – we'll be back in a week!
Best,
MA