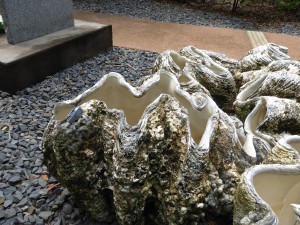 Darwin, AUS                                    Friday, Feb 26, 2016 (2 pm local time)
Yesterday we visited Darwin, at the "Top End" of Australia. Darwin's proximity to Asia and its position at the top of the outback country give it a very different feel than Brisbane or Sydney; less British history and development, more Aboriginal and Chinese influence through today. The Top End (Northern Territory) has a wet season and a dry one, and they are characterized by extremes in weather, vegetation and animals – everything from monsoons to brush fires in dry season, crocodiles, watefalls, termite mounds and anthills that are as tall as people, rain forests, and feral animals of all types in the outback. The Northern Territory is not populous enough to be a State in Australia, so the Territory is self-governing (unless the federal government overrules it).
We learned a lot about Darwin's history, which started when telegraph cables were extended underwater and overland throughout the English empire, connecting Australia with the rest of the world. This ability to communicate over the wires allowed Australians in the sparsely populated interior to stay in touch with the developing coastal cities, as well as providing a means for radio-delivered education of children in the interior. Darwin was named after Charles Darwin, by the way.
Darwin is the seat of government for the Northern Territory, and it's a town with a history of recovering from disasters and starting all over. Darwin was a key base for US military in WWII, and WWII airstrikes from Japan destroyed most of the city, but it was rebuilt. Cyclone Tracy destroyed much of the city in 1974, and an historic airlift of citizens resulted, but the city was rebuilt. The city has a wide and deep harbor, and its location is great for commerce. There are many gardens and parks in the downtown, and the city has been described as "cosmopolitan but casual."
We toured the Territory WildLife Park yesterday, and saw a very cool bird training session with owls, emu and eagles (Joe will post some pictures).
Darwin's history includes a lot of activity related to the pearling industry. Interestingly, the pearls were not the first item sought as this industry evolved – the clam shells were (for use in buttons, table utensils and other decorative items). Giant clams were harvested until they nearly became extinct – the shells are 3 or more feet wide.
In recent years, Darwin is seeing an increased US military presence as the US commitment to NATO allies is reinforced. Oddly enough, the port of Darwin has recently been leased to the Chinese government, so that situation will require some careful management of US activity.
We are now in the Timor Sea on our way to Bali. The air and sea are both 88F/31C, and the humidity is very high. There are phenomenal lighting displays at night, and we expect some rain today.
Hope all is well with you – Best, MA