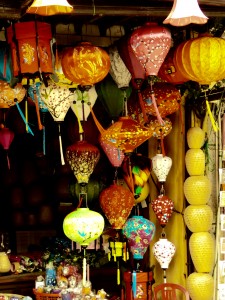 Friday, March 25, 2016                                              South China Sea
We spent the last 2 days in central and northern Vietnam – they are quite different from the southern visit to Saigon/Ho Chi Minh City.  Da Nang is the large city in central Vietnam, and has a lot of the old colonial French architecture to see, amidst every conceivable type of shop.
We tromped around the Cham Temple ruins on an incredibly hot and humid morning, viewing what had previously been a compound of 70 Hindu temples in central Vietnam, until almost all of them were bombed during the Vietnam War.  That visit gave us an appreciation into what the soldiers in the forests of Vietnam were up against in terms of terrain and heat, to say nothing of their enemies.
We also visited Hoi An, an ancient trading city, and saw beautiful temples, lanterns, and silk and other textiles.
Last visit in central Vietnam was China Beach, where American soldiers used to go for R&R; it's a lovely long beach and within biking distance from Da Nang.
Yesterday we saw some of northern Vietnam  when we sailed around Ha Long Bay, viewing the karst formations; karst is formed when limestone is dissolved by running water, creating conical hills with underground caves.
Legend has it that in Ha Long Bay, a family of dragons was sent by the gods to protect Vietnam against foreign invaders when it was a young country.  The dragons spit jewels and jade that formed a protective ring of barrier islands, and the Bay has hundreds of these formations to view, bearing names to indicate their shapes (Duck Island, Kissing Chickens Island, Flame Island, etc.).  The day was overcast but our trip was not rained out, so we had the chance to see some fishing villages along the Bay, and a lot of water traffic.
In the course of our visits we noticed that the northern and central areas are much cleaner than those we observed in the south, and have better roads and infrastructure.   We heard some different versions of how capitalism and communism co-exist than we had heard in the south, and we heard some references to winners and losers in the Vietnam War.
However, all regions of Vietnam appear to be growing in leaps and bounds.  Construction is going on everywhere, tourism is booming, and there is a lot of vitality in the air.
Tomorrow we will arrive in Hong Kong (we had our temperatures taken by a scanning device today to be sure that we are allowed to enter China).
Best wishes to all of you.
Mary Anne