Vancouver, BC, Canada                                       May 3, 2016
We spent a wonderful day in Vancouver, a city we hadn't seen before, a city that impressed us tremendously.  A vibrant cosmopolitan city (developed only about 100 years ago), with a diverse population (1/3 Chinese, with many residents from other parts of Asia), beautiful parks and gardens, a busy port, and lovely suburbs  -this is definitely a place we'd love to see again, in greater detail.
The morning we arrived we hiked through an old growth forest in Lighthouse Park, and saw some very tall and old trees.  As you might imagine, this climate (we're still in the temperate rain forest in Vancouver) allows for some incredible plants and flowers, not only in the forest but also in the many gardens and parks in town.
And to make the day very special, we enjoyed a wonderful visit with Bob and Barbara, who trekked up 3 hours from Seattle to say hello – we appreciated the chance to spend time with them, as always.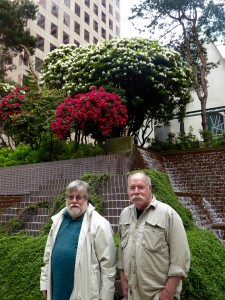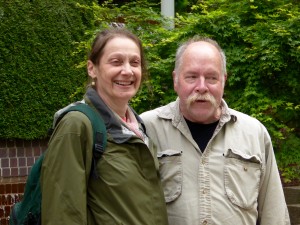 So now that the USA Presidential race seems to have come down to a smaller field of contenders, our visit to Vancouver was timely; it could possibly be just the place to go if things don't improve on the homefront!
We will be in San Francisco tomorrow, and back to NJ on Saturday.  We're looking forward to seeing you and catching up!
Best,
MA