Sydney, Aus ("Oz")                                         Tuesday Feb 16, 2016 6:30 pm
Well, we made it to Australia, the place we wanted to see so much, and the reason we are on this cruise. We arrived this morning in Sydney at about 5 am, and it was magical – the sun was not yet up, the sky was dark but getting rosy, and the shoreline of Sydney Harbour was aglow in lights from the beautiful buildings, bridges and boats that we could see from our room. Think of seeing your favorite city skyline just before dawn, and that's the way our day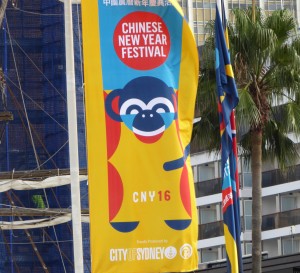 started. It was a bit dreamy, and those iconic Sydney images (the Harbour Bridge and the Opera House) are just as lovely as they appear when you see them on postcards.
So, after about 14 hours in Oz, we can officially say that we love it.   Sydney is like the best of all familiar western great cities – London, New York, Chicago, San Francisco – it has great old places and elegant new places; it makes the most of being on the water; it is well organized and very clean; there are people here from all over the earth; and of course the local accent is the best!
We spent the morning heading north and east through Sydney suburbs to the Featherdale Wildlife Park, which was terrific. We saw tons of gorgeous and colorful birds, and lots of animals endemic to Oz: kangaroos, billikins, wallabies, wombats, Tasmanian devils (who run around in circles as if they are possessed, and are very funny to watch), emus, platypuses, dingos, cassawaries, crocs and other reptiles and, of course, koalas. There was also a porcupine kind of animal that has a name I cannot recall. It was all very interesting and we learned a lot. But it was crowded, as the lunar new year is here, and many visitors from Asia are celebrating in Oz.
Mid-day we ambled about the Sydney Harbour and then took a tour of the Opera House – what an interesting and pretty building. Its history was new to us – there was an international competition for the design, and the lead judge was late to arrive for the selection of the winning design. The other judges showed him their short list of finalists and he asked to see the "rejects." From that group of rejects the winning design was selected.
A Danish architect (Jorn Utzon, 38 years old at the time) created the design based on spherical concepts, though his father's influence as a naval architect probably was felt. The architect could not confirm that his design was sound from an engineering point of view, but the committee selected the design nonetheless and put engineers on the project to make it happen. The construction was well over budget and greatly delayed, and the opera house eventually was opened in 1973. The considerable debt to build it was erased in 18 months by a state lottery game. Before his death, Mr. Utzon was one of only 2 living architects ever to learn that his creation was deemed a UNESCO world heritage site. In more recent years, the architect's son has cooperated with the Oz government and has overseen renovations and changes (for example, making the Opera House accessible to people with disabilities).
The Opera House is a lovely structure inside and out, and it gets a workout – not only do Australian opera companies and ballet companies perform regularly, but it hosts performers from all over the world.  Today we saw signs for an upcoming show by Prince, and one by former Beach Boy Brian Wilson. We had the good luck today to hear part of a rehearsal by the strings for a Beethoven concert – the sound in the hall was tremendous.
On a different note: Joe's had enough of my "suggestions" about good pictures for this blog, so last night he bought a little point and shoot camera for me. I didn't bring a camera with me on this trip because I really wanted to absorb things without trying to create a record of it all, especially since Joe has all the expertise and good gear.  But enough was enough, and now I have my own camera. That means I'll probably put up some pix on this blog, which will be amateurish, but maybe will add something of interest. We can only hope….
Tomorrow starts the second leg of our tour – one more day in Sydney and then a lot of stops around the east coast of Oz before we get to Indonesia (Komodo Island and Bali).
Hope you are all had a nice long weekend, and are doing well.
Best,
MA